Living in Miami provides an array of fantastic perks to its residents. As the economic center of Florida, this sunshine-filled southern city is also home to multiple national and international businesses, along with the PortMiami, one of the busiest cruise terminals in the country. The year-round tropical temperatures and beach-centric atmosphere promise residents consistent access to their favorite outdoor activities. The area is replete with parks, trails, and waterways perfect for walking, running, biking, paddle boarding, sailing, and more — the opportunities are endless, and buyers take notice.


The luxury home market in Miami is booming with a consistent level of allure. Whether potential buyers are seeking a sleek, modern condo in downtown Miami or a waterfront estate with their own private dock, they are sure to find their perfect home here. As a seller, you'll undoubtedly receive plenty of interest from hopeful buyers, but you still want to begin your selling journey with a solid plan in place. Read on for Aston Rose's expert recommendations for the best way to sell your luxury Miami home.
Start with Your Real Estate Agent
If you're aiming high in the real estate game, you need to team up with a professional who knows how to achieve the results you're after. Thus, the first step in selling a luxury home in Miami is to secure the services of an Aston Rose agent advisor who demonstrates effective communication skills, in-depth knowledge of the community, and a solid understanding of the housing market.

Effective Communication Skills

You want someone on your side who is responsive and proactive in answering questions, handling roadblocks, connecting you with resources, and ensuring that you stay on track. You and your agent should be on the same page regarding the price point, timeline, negotiation and marketing strategies, and other important factors that will affect your selling journey.


Team up with an Aston Rose agent advisor who aligns with the communication method you prefer, whether it is through phone calls, texts, or emails. At every point, you will receive timely responses to your questions and regular updates as you progress through the process. Your Aston Rose agent advisor will commit to representing you professionally and advocating for your best interests.
Knowledge of the Miami Area
Of course, you want to streamline your sale, which requires top-notch marketing skills and expertise. Working with an Aston Rose agent advisor who is highly familiar with the Miami area is a major asset, as they can speak expertly about the neighborhood and surrounding community, describing its features and amenities to showcase the luxurious lifestyle your area promises. They will help you craft a compelling listing description highlighting everything amazing about your home and Miami itself, from the pristine beaches to the nightlife, signature shopping spots, and entertainment venues. Your agent advisor's knowledge of the area will also extend to their professional connections. They will be able to provide you with recommendations for interior design, contracting, staging, and landscaping, depending on your specific needs.
Insight into the Real Estate Market
Your agent advisor will also demonstrate an in-depth knowledge of the luxury Miami real estate scene to understand how the current trends might affect your sale. Working with an agent who is in tune with the local market is invaluable, as they can ensure you are entering the selling game at a time that's most advantageous for your goals. Be sure to check out our
portfolio of luxury sales
to see if Aston Rose's vision of marketing aligns with yours.
The Answer? Aston Rose!
If you are selling luxury Miami real estate — whether that's an upscale Miami condo or a gorgeous waterfront estate — you don't need to look far to find an expert agent advisor.
Aston Rose
is an esteemed firm that promises an unmatched dedication to client success. This expert firm provides a customized level of service for each of their clients, attuned to their specific needs and concerns. They have innovative marketing tactics ready to get your luxury Miami home seen and sold in no time.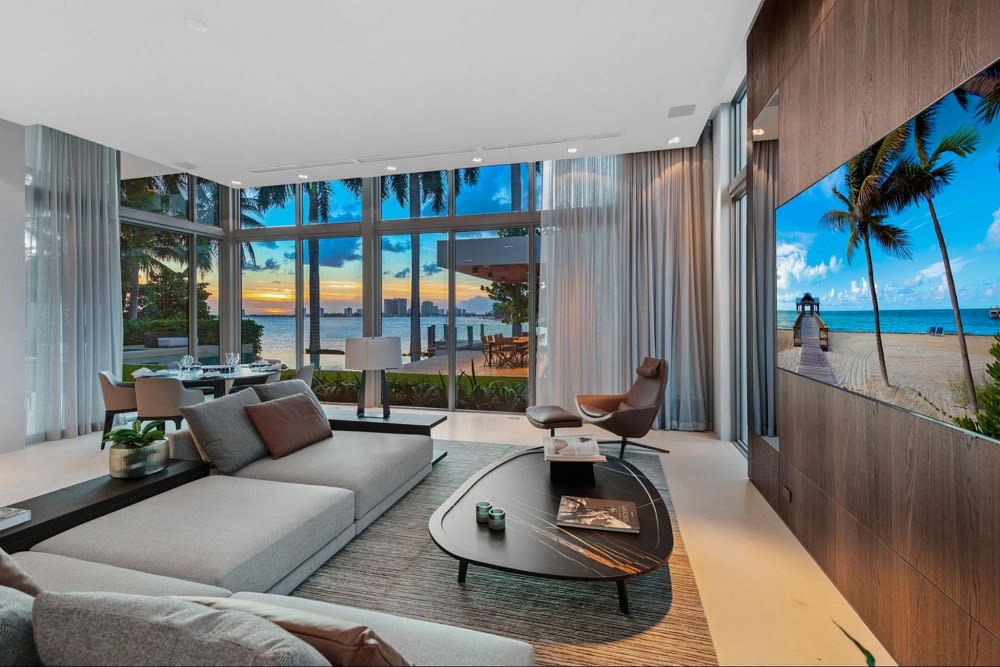 Photo courtesy of Aston Rose
Get Your Home Ready to List
The next essential step in any successful home sale is to prepare your property for the listing process. Take the time to clean, declutter, and depersonalize each room so that buyers can visualize their own lives within the space. You want each surface to sparkle and shine.


Next, complete any simple repairs or updates, including tightening loose door knobs, replacing light bulbs, or changing out cabinet hardware, to show that you've put great care into keeping your home in tip-top shape. Consider refreshing the walls with a new touch of neutral paint, which most buyers are drawn to. Consult with your real estate agent before you undertake any major renovations, as these could extend your timeline without bringing a positive return on your investment. Your agent is well-versed in the features and upgrades that luxury buyers are hoping to see, so they are ready to make recommendations for any areas of improvement.


Finally, consider hiring a professional to stage your home effectively. The thoughtful arrangement of furniture and decor is designed to highlight your home at its finest and show off the functionality and beauty of each room. At every point, Aston Rose will provide you with expert guidance to help you make wise selling decisions and create a show-stopping space that is sure to impress.
Learn About the Marketing Plan
To generate interest in your listing, your agent should outline a clearly refined and professional marketing plan they will employ. They should have a plan for highlighting the luxurious Miami lifestyle and all the fantastic features that make your home appealing to buyers.


In addition, your agent advisor will plan for professional photography sessions and virtual tours to impart a positive first impression upon viewers. They should take a multi-faceted approach to marketing, including listings and advertising efforts through the agent's website, social media, direct mailers, fliers, and the MLS. If you so choose, your agent may also recommend open houses or personalized showings to give buyers a closer look. By teaming up with Aston Rose, you can expect an in-depth, customized marketing plan tailored to reaching both local and global luxury buyers.
Ready to Get Started on Your Selling Journey?
Selling a luxury Miami home is no small task, but you don't have to tackle it alone. Partner up with the top-notch brokerage of Realtors at
Aston Rose
for the guidance you can count on. With white glove services and attentive advice, this highly experienced firm is ready to provide savvy selling solutions that get results every time.
Contact the team
to get started toward your goals today.