Front doors play a pivotal role in
Beverly Hills luxury home
design, serving as the gateway, and setting the tone for the entire property. They are functional elements and an opportunity to make a stylish statement while ensuring privacy. Balancing aesthetics and security is crucial, and modern front doors achieve this optimal balance. Learn more about how modern front doors can enhance style and privacy, from choosing suitable material to exploring stylish design options and ways to improve curb appeal.

What makes a front door modern?
Modern front doors feature the most popular aspects of contemporary design, such as being simple and straight, by enhancing homes with simple, clean lines. When making your front door secure and stylish, there are many methods for creating the best front door for your home.


One popular design choice is to hide the door's hinges using hinge screws. Security-wise, when getting keys for your new home, work with a manufacturer where the keys can only be replicated by them and no third-party companies. For additional security features, you can even eliminate the need for a key by adding a smart door lock to unlock the door from your phone.


Another option is to get a doorbell camera, which lets you see who is at the door while communicating with them through an intercom system. No matter what additional features you incorporate at your entrance, choosing the best materials for your aesthetic is one of the most vital aspects of designing your front door.

Choosing the best material for your front door
For modern front doors, selecting the right material is essential. Each material has its own characteristics and benefits, allowing you to find the perfect fit for your luxury abode. Three of the best materials for a front door are wood, steel, and fiberglass.


Wooden front doors exude classic elegance and natural beauty by creating a warm and inviting feel. Different types of wood, like mahogany or oak, possess unique characteristics, including grain patterns, durability, and resistance to weathering. If you install a wooden front door, proper maintenance and care are necessary, such as regular sealing and polishing, to ensure longevity and preservation of the door's natural beauty.


Another option is a metal front door, as they offer high durability and are resistant to external elements, making them suitable for various climates. One of the most popular options for metal front doors is steel, which can be customized to fit the desired style of your home. Powder coating options add texture, color, or a metallic finish, to further elevate the door's appearance.


One of the final options you should consider is a fiberglass door, as they are versatile and low-maintenance, with the ability to replicate the look of wood or metal. Fiberglass doors are highly resistant to warping, cracking, and rotting, making them an excellent option for long-lasting durability. They also often come with energy-efficient features and insulation benefits to increase the energy efficiency of your luxury home.

Color and finish options
Popular color options for modern front doors include bold and rich hues like deep blues, vibrant reds, or sleek black for anyone who wants to keep up with current trends. These colors make a striking statement and instantly elevate the aesthetics of your home's entrance. In addition to color, choosing the right finish is crucial. Matte finishes lend to a more contemporary and sophisticated look, while glossy finishes give a sleek and polished appearance. Textured finishes, such as wood grain or metallic textures, add depth and visual interest to the front door, making it an eye-catching focal point.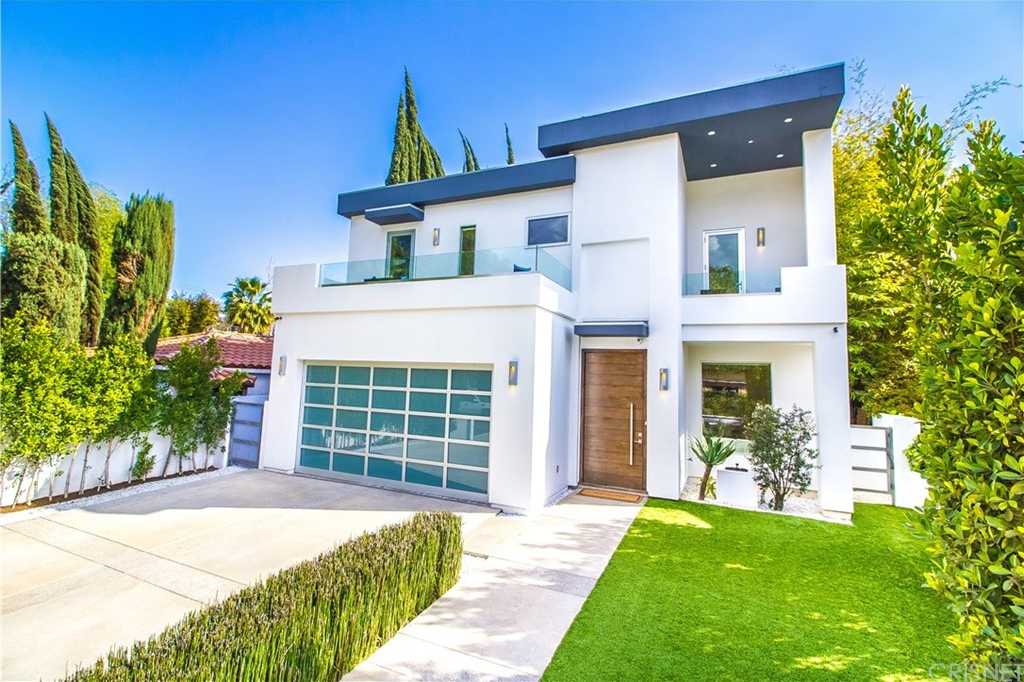 Stylish design options for modern front doors
Once you know what material you want for the door, it is time to consider the actual design aspects of it. Modern front doors have various stylish design options, allowing for personalization and making a bold statement reflecting your unique taste and style.
Doors with minimalist designs and clean lines
Minimalist front door designs emphasize simplicity and sleekness, embracing clean lines and a clutter-free aesthetic. Modern architecture often influences these doors, which prioritizes functionality and minimalist principles. The result is a front door exuding a contemporary and refined look, perfect for homes aiming for timeless and understated elegance.
Statement-making entrances
Statement-making front doors are ideal for anyone desiring grandeur and impact. These doors boast imposing designs that capture visitors' attention and create lasting impressions. The possibilities are endless, from oversized doors with intricate details to custom-made masterpieces. You can choose customizable features like ornate carvings, decorative glass inserts, or personalized touches per your style.
Geometric patterns and shapes
Add visual interest and uniqueness to your modern front door with geometric patterns and shapes. These doors are an excellent choice if you want a striking design statement. Incorporating symmetry or playing with asymmetry creates a stunning visual effect, making the front door a standout feature of the home's exterior. Various techniques are used for geometric patterns, such as door panel designs, sidelights, or decorative accents.
Glass elements and transparency
Introducing glass elements into modern front doors produces an open and airy feel, allowing natural light to permeate the entrance area. Different glass options, including frosted or textured glass, provide privacy without compromising style or security. Moreover, large glass panels or windows allude to a connection between indoor and outdoor spaces, visually expanding the entryway to boast a sense of grandeur.
The perfect front door for your Beverly Hills home
Modern front doors go beyond mere functionality; they are a design element setting the tone for luxury homes. Whether it is the classic elegance of wooden doors, the contemporary sleekness of metal doors, or the versatility of fiberglass doors, there are endless possibilities to create an impressive entrance welcoming guests and providing peace of mind.


Are you searching for luxury homes for sale in Beverly Hills, California? Connect with
Aston Rose
, the perfect luxury real estate brokerage in Beverly Hills who understands the unique needs of athletes, entertainers, and luxury home buyers. With over two decades of experience and a team dedicated to finding your perfect home, Aston Rose will ensure you are cared for throughout the home-buying process.
Contact Aston Rose today
to start your journey to finding your new property in the Beverly Hills, California, luxury real estate market.

*Header photo courtesy of Aston Rose